Meet Toyin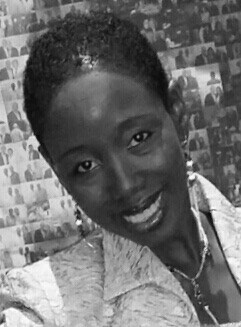 Toyin John brings a lot of spirit-filled energy, authenticity, passion and relatability on stage. Due to her own personal journey, she is able to connect with her audience in a way that, allows them to relate to her messages.
She was led by God to birth the Giant Within Ministries, an international Christian ministry that is dedicated to preaching Christ and transforming lives.
She is an ordained and anointed Minister of the Gospel, who passionately shares the truth of God's word in churches and Christian based events and conferences. Apart from speaking, she holds training workshops in churches, to equip the Saints to have a stronger walk with God, do the work of ministry with purpose, and serve effectively in their local churches.
In January 2011, as led by God, Toyin John birthed the
PUSH Prayer Movement
, a Prayer Ministry that consists of groups of dedicated Prayer Warriors in different nations. They meet weekly on several telephone conference calls, according to their regions. The aim of this Prayer Ministry is to awaken the Believers to new levels of authority in Christ, to enlarge their spiritual capacity in order for them to fulfill God's purpose for their lives. Prayer Warriors come together in prayer, seeking to see the will of God prevail in people's lives, nations and situations. This Movement is now active in ten countries and counting. Visit
www.pushprayer.org for more information.
She holds
POWER UP!
events in various cities across America and internationally. At these events, her aim is to awaken the attendees to
discover
,
activate
and
walk
in the God-given power within them. This, she believes, enables them to fulfill the God-ordained purpose for their lives. People walk away from these events truly powered up to the next level of their destiny in God.
She birthed the
PURPOSE ACTIVATION 2 REALIZATION
training workshops, that aim at equipping the participants at different levels of their journey in life, to soar to new heights in their quest to fulfill their purpose. At these workshops, participants leave, filled with hope, clarity, sense of direction and audacious faith to move on the next level. They are able to spring into actions that bring actual results.
She is a certified Speaker, Coach and Trainer with The John Maxwell Team. She also runs a Coaching and Consulting company, TOYIN JOHN, LLC that is dedicated to supporting individuals and organizations in their quest for excellence and peak performance in life. She also holds a Bachelor of Arts degree in English Language.
She is a published author of two books: A Christian inspirational and empowerment book;
"THE PLACE OF POWER IN
YOU
, that shows the readers how to be all they were meant to be, and
PRAYER SIMPLIFIED!
that delves into the why, the what, the how, and the when of prayer. Both books are available here on her website and on Amazon.
She is happily married to Dr. Emmanuel John and they have three lovely children; Tami, Toni and Damilola. Toyin and her husband serve as Associate Pastors at their local Church (Ignite Church OC) in California, USA. Toyin loves to go on walks, exercise, read and journal. She considers herself a home buddy who thoroughly enjoys staying home in the company of her family, whenever she's not on the field. She also loves to cook, play ball, sing and write songs. She believes strongly in the Power of Prayer and the Word of God to change situations and lives. She credits her ability to do what she does to the divine grace of God and faith in an unfailing God.